We want your shopping experience to be simple and quick! As soon as we have processed your order we will send you confirmation by email and this will include your delivery tracking number(s).
Handy tip: If you are unable to find your order email have a look in your spam folder as sometimes our order confirmation gets lost and settles there!
You can also check the status of your order by logging into 'My Account' in the top right of our webpage as shown below;

Then select "Order history' in the profile menu;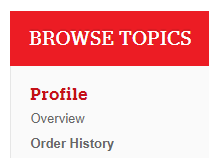 Here you are able to view all current and completed orders along with their tracking links.
Selecting the link will redirect you to the courier website and will show you the status of your order.
If you have any questions or need assistance please contact our helpful customer care team through our live chat service or by email here.