Autoship...making pet ownership a little easier.
We have created the Autoship delivery option for products that pet owners prefer to recieve regularly and as such not everything from our pawsome product range is included in this service.
Items eligible for Autoshipment are easy to spot online and will have two delivery options;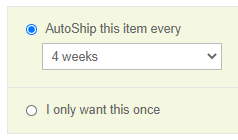 Delivery to suit you
When selecting a product to be shipped using Autoship you can select the frequency of your choice (from 2 to 26 weekly intervals) from the drop-down menu. You are able to amend the delivery dates and products as and when needed.
Convenience and save $$$
Not only will you enjoy the convenience of a scheduled regular delivery, you will also save money on our regular, non-discounted purchase price!! The Autoship price will be displayed so it is easy to see your savings.